It works on the principle of the internal combustion engine with a crankshaft, connecting rods and pistons (2, 3 or 6), in an oil sump : a simple tried and tested concept, easy to maintain (first oil change after 50 hours, then every 250 hours) and repair (all parts are fully accessible). The quality of the pumps depends of the quality of the materials used.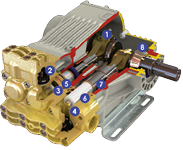 1. «White bronze» reinforced connecting rods.
2. Suction and discharge valves known for their silence. Seat, valve and spring made of stainless steel.
3. Long life seal preventing extrusion hazards.
4. Stainless steel piston locking screw.
5. Exclusive sealing pack constantly lubricated, avoiding leaks. Very easily replaceable.
6. Extremely hard solid ceramic pistons. Perfect polishing ensures an exceptional longevity to seals.
7. Teflon, graphite and bronze covering to guide the pistons.
8. Oversized tapered roller bearings.